FATHERING THE ENVIRONMENTAL MOVEMENT IN LEBANON
INVESTING DECADES IN AWARENESS BUILDING & PUBLIC MOBILIZATION
AS THE SOLE AWAKENING VOICE
The first two decades centered on building awareness in a country that had no appreciation to the value and role of natural resources. The resources were still largely protected by lack of interest at exploiting them; but the threats were starting to lurk and augment in scale and profusion.
The Friends of Nature diversified their activities to reach all segments of the society in various modes of sensitization.
A –  Nature Walks
o   FON conducted nature walks on weekends for free; they were advertised in newspapers for the general public with specific itineraries and meeting points. The walks attracted youth and young adults from all over Lebanon and became a medium of acquaintance and interaction.
B –  Cleaning Campaigns
o   Forests: Littering, as today as before, reached all sites where people settled, camped, had picnic, etc. It was spread on the sides of roads and extended to the heart of forests.
o   Beaches: the first time FON went on a beach for cleaning, it was a parade with banners and slogans made for the occasion. The public was puzzled by the initiative of unknown people extracting garbage from under their feet.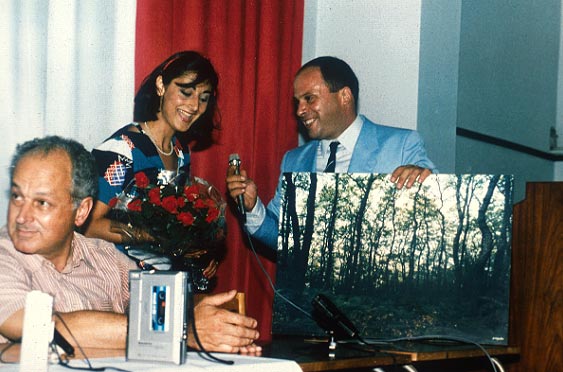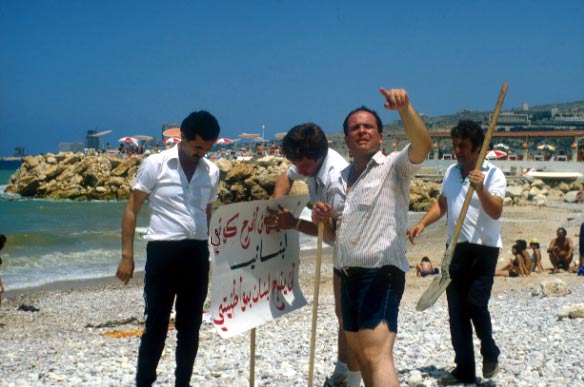 C – Lecturing all over the country
o FON collected all the beauty of Lebanon's nature and the existing threats in photos that transformed to visual presentation and slide shows at a time when there were only slide projectors.
o 1000's of lectures were given at schools, centers, community gatherings, villages, etc. and covered all of Lebanon.
D – Exhibitions
o FON created a revolutionary approach at the time to expose the natural assets of Lebanon in glamor and beauty. Annual exhibitions were held with the most amazing photography to sensitize the public to the protection of nature through the measures of awesome beauty.
o Environmental awareness exhibitions were also prepared, reflecting on the damage and modes of destruction and disturbance that are inflicted on Lebanon's environment and natural assets, in a mean to spread awareness and deter further destruction.
o Exhibitions were also prepared for schools and created like tours to communicate with and to the youth the importance of the natural heritage of Lebanon and to give them a role at its protection.
E –  Engagement of the Media
o Writing
o Reporting
o TV and Radio programs
F – Environmental Activism
Actively engaging in protection of landmarks and heritage through
o Protests
o Sit-ins
o holding press conferences, exposing problems through the media
o Alerting and pressuring central authority for action
o Creating strong lobbies for causes
o Engendering local communities to voice against local authorities to act and stop damage and destruction
 —————————————————————
Many of the salvaged sites and assets still exist and attest to the contribution of FON for maintaining our natural heritage. For example,
§  stopping the quarrying of the Dog River tunnel,
§  Stopping a highway project in Dlebta that would have destroyed the old traditional Lebanese houses
§  protesting against quarrying of Antelias Cave where FON was exposed to gun shelling
§  Stopping the dumping of chemical waste in the water catchment of Ayoun Seeman, and many more